Installing Mozilla Thunderbird
by
Krishnan Subramanian
After reading my
review
, if you are impressed by the features available in thunderbird and don't know how to install it on your Fedora box, this HOWTO will give you the necessary instructions.
Download Thunderbird from this site. Save the file in /tmp directory. We will install thunderbird in /opt directory.

$ cd /opt
$ sudo tar -jxvf /tmp/thunderbird-0.4-i686-pc-linux-gtk2-gnu.tar.bz2

This will create a directory called thunderbird in
/opt

$ ls
JPL  MozillaFirebird  msn  thunderbird  ymessenger
$ cd thunderbird/
$ ls
bloaturls.txt      libmozjs.so      libssl3.so              res
chrome             libmozz.so       libxlibrgb.so           run-mozilla.sh
components         libnspr4.so      libxpcom_compat.so      shlibsign
defaults           libnss3.so       libxpcom.so             TestGtkEmbed
dirver             libnssckbi.so    libxpistub.so           thunderbird
elf-dynstr-gc      libplc4.so       mangle                  thunderbird-bin
icons              libplds4.so      mozilla-config          xpcshell
libgkgfx.so        libprldap50.so   mozilla-xremote-client  xpicleanup
libgtkembedmoz.so  libsmime3.so     plugins                 xpidl
libgtkxtbin.so     libsoftokn3.chk  regchrome               xpt_dump
libldap50.so       libsoftokn3.so   regxpcom                xpt_link

That is it. Now let us create a link to the desktop. Right click on the desktop and select Create New --> File --> Link to Application (This is using KDE 3.2 rc1). This may be slightly different if you are using GNOME. Now a screen will appear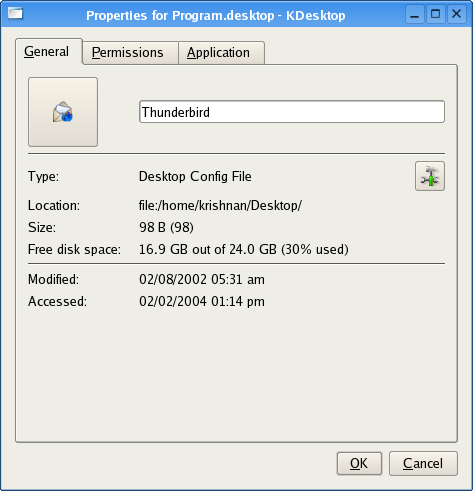 Give the name as Thunderbird. Click on the icon, select other icons, then browse. A window will appear. Browse to /opt/thunderbird/icons/ and select the icon. Now click on application tab and you will get a screen like this.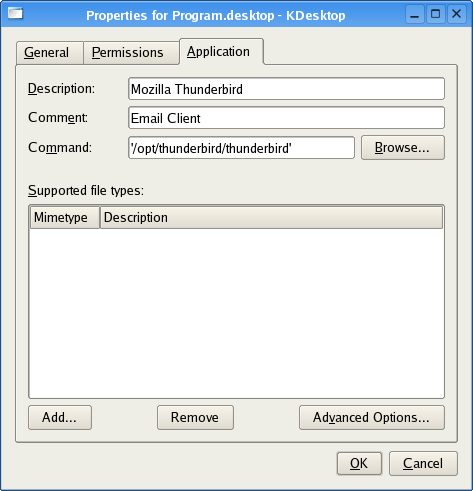 Click browse and select /opt/thunderbird/thunderbird. Click ok. Now you are all set to use Mozilla Thunderbird. You can learn about using the thunderbird from this site.