Today I installed KDE 3.2, third major release of award winning KDE3 desktop platform, on my Fedora box. I have been using KDE 3.2 RC for the past few days and the final version from today. My first impression is "wow".
KDE 3.2 provides an integrated desktop along with various applications to carry out common desktop tasks such as web browsing, email, instant messaging, multimedia, graphics, etc. Some of the impressive features which you will notice include
Increase in speed evident from faster application startup time
Improvements in usability and performance
Better appearance through interface refinement
Browser performance boost evident through better webpage rendering
Upgrading to KDE 3.2 is a breeze. If you are a newbie and want to learn how to do it, you can refer to my HOWTO. I started my installation and within few minutes I am logged into my new KDE 3.2 desktop.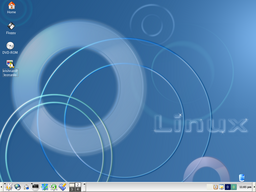 The desktop is very polished and you can configure it in any way you want by right clicking on the desktop. You can setup your desktop background as a slide show so that the background picture changes at predetermined intervals. The style and window decorations are very refined increasing the overall appearance. I love plastik for style and window decoration. A better icon set is also available. Now that you can find a wide array of themes and icon sets in www.kde-look.org, you can customize your KDE desktop in any way you want. In fact, you can even select the KDE splash screen (which appears when you login) from the available choices.
The K Menu is better organized now. It is grouped into "Most Used Application", "All Applications" and "Actions". Even the applications are grouped in a much better way compared to earlier version.
The new KHotkey feature is really hot. You can create keyboard shortcuts and mouse gestures for various tasks. This comes very handy. People used to such features in Microsoft Windows environment will love this feature. It is really cool to press the "Windows" key in your keyboard and see KMenu pop up in your screen.

The control center is well spruced up and better structured in KDE 3.2. Some of the tabs like background, window decoration, style etc. are redesigned.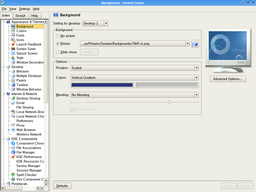 Some of the welcome addtions to control center are
Splash Screen - where you can select a KDE splash screen of your choice
Wireless Network - where you can configure your wireless network. You can save upto four different configurations.
Vim Component Configuration - where you can configure Vim to use inside KDE
KHotkeys - where you can specify keyboard shortkeys and mouse gestures to lauch applications in KDE
KDE Wallet - where you can configure KDE Wallet to store your internet and local passwords
Sony Vaio Laptop - where you can configure the hardware for this laptop
KDE 3.2 has more countries under Country/Region. Also these countries are better organized. This is a very positive step in the internationalization efforts of KDE.
Another welcome feature in the control panel is the "Font installer". With this, installation of new fonts is a breeze. This is very useful for people who want to install their regional fonts and other extra fonts (many fonts are available in kde-look.org). The best aspect of the font installer is the instant preview available with it. I feel this is one of the greatest additions to KDE.
Many new applications are added and some of the existing applications have been upgraded. It is quite impossible to discuss all the applications available in KDE 3.2. I will just discuss some of the applications based on my preferences.
Konqueror: This is the central part of KDE environment. it is a web browser, file manager, network browser and so on. Konqueror has finally matured as a web browser. I feel, though many would disagree with me, that rendering of sites is sometimes better than Mozilla. I find this difference while checking out IE based sites. This is just my observation and I cannot quantify this in any way.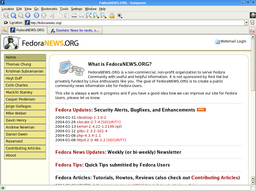 Konqueror now supports tabs for both web browsing and file management. This is very useful if you don't want clutter on your desktop or switch between various folders/webpages often. Konqueror also comes with a universal sidebar with lots of functionality. One of the best features of Konqueror is the addition of service menu. You can add items to your right click through service menus. There is a nice tutorial for this. Overall it gives you a better browsing experience.
Editors: KDE 3.2 comes with three editors. They are Kate, KEdit and KWrite. I don't understand the need for three editors. Kate and KWrite are very goood editors with many features but KWrite takes a long time to load.
There are so many other welcome additions in this version of KDE. Quanta now has a WYSIWYG Web development environment. There is a new release of KDevelop added to KDE 3.2 and so on. Now let me turn my attention to some of the new applications. Some of them like KWallet and KGpg are great additions. These applications will play a very important role in your daily desktop usage.
KWallet: This provides an integrated secure storage of passwords and web form data. This works very well with KDE applications like Konqueror, Kopete etc. Each program can be given different level of access. This docks nicely into KDE panel. You can shut it off after a specified time period or as soon as screensaver starts. You will definitely find KWallet very handy in your internet browsing experience.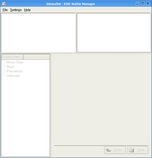 KGpg: This is a key manager which can be used to import, export, delete, sign, generate and edit keys. This is integrated with Konqueror very well. There is support for support for symetric encryption. Multiple keys & default key encryption. People who use GPG keys will find this utility very handy.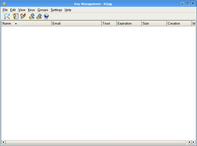 Kopete: KDE 3.2 comes with its own instant messaging software. This is an instant messenger with support for AOL Instant Messenger, MSN, Yahoo Messenger, ICQ, Gadu-Gadu, Jabber, IRC, SMS and WinPopup. With Kopete, you need not use separate clients for different instant messaging network. This docks nicely into KDE panel.

Kontact: This combines KAddressbook, KMail, KNode, KOrganizer, KWeather, and KNotes under a common GUI with a sidebar to select different modules. This is similar to Ximian Evolution or Microsoft Outlook. Unlike MS Outlook, you can run the modules separately or as an all in one application. You can add/remove modules depending on what you want. This is definitely a good start for KDE people. This one was long overdue and I hope it matures into an excellant piece of software with time.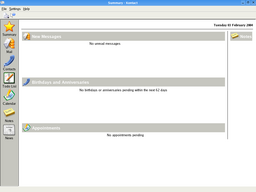 There are so many aspects of KDE 3.2 I haven't reviewed in this article. This does not mean that they are not important. I once again want to emphasize that the selection of applications for review is based on just my preferences. To sum it up, with so many enhancements, an upgrade is worth your time. Applications like KWallet and KGpg are absolute necessities. I would like to point out that I have written this review after just a day's experience with KDE 3.2 (although I have been using KDE 3.2 RC1 for sometime now) and I haven't encountered any problems right now. I would like to hear comments from readers about their KDE 3.2 experience so that I can update this article at a later stage. Send me an email about your comments.
Just go ahead and install KDE 3.2.
Note:
If you installed KDE 3.2 and if you find that KDE hangs and mouse becomes unresponsive, please read this bug report to fix the issue.