SCALE 3X - OpenEMR, XRMS, CRM and open source medical applications
By
Jason Riker
on Feb 21, 2005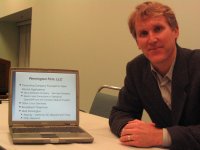 I had a fantastic time at this year's SCALE. I spent two fun filled days talking with Linux users from all over the southland. There were booths showing all sorts of interesting Linux stuff (applications, hardware, books) and lectures for all levels of Linux user from the newest beginner to the experienced kernel hacker. One lecture that was particularly interesting to me was Walt Pennington's talk on open source(OS) medical applications.
Walt Pennington is President of Pennington Firm, a San Diego, California based consulting firm specializing in Linux and open source software. As a little background, Walt is an attorney and CPA by training and has been a Linux user for about five years. While primarily a Mandrake user Walt, upon seeing my FedoraNEWS.ORG Reporter badge, quickly smiled and commented that his developer's use other distributions, too. In his everyday life, Walt said he chose Linux for the same reasons many of us have. He appreciates the stability he receives from Linux, remarking on the 80+ days of uptime he has seen on his computer. He likes being able to download and run such a wide variety of applications. From a professional stand point, Walt found that Linux and open source provided the ability to offer features he and his client's could not get with a proprietary offering. In addition to this, Walt sees the added value to his customer's of being able to shop around for support. The availability of OS source code allows others the opportunity to develop and support an application in ways others may not have though about.
Walt's talk touched on several topics related to OS medical applications, including the availability of such applications, obstacles to market penetration, and opportunities for future growth.
Current OS medical applications are primarily available in two flavors; those that deal directly with practice management and those that deal with professional relationship building. Walt's company is the primary developer of an application called OpenEMR. OpenEMR is an open source practice management application that gives clinics and offices the ability to perform several key business features for the health care industry, like electronic management of patient demographics and patient scheduling, the ability to e-mail or print prescriptions, and the ability to file insurance claims electronically. Other applications providing similar features include the Canadian based OSCAR, FreeMED, and for Federally qualified health centers there is PhoenixPM. As much as we would like to believe otherwise, there is more to running a successful medical practice than just taking care of patients. Physicians and clinics today need a way to manage the complex business relationships that come with working in the health care field. One way they can do that is with the assistance of a good customer relationship management(CRM) application.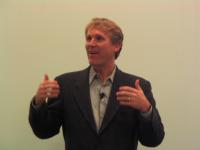 There are several CRM applications available for use in a busy practice. Companies like Siebel, Best Software and Oracle-PeopleSoft all deliver CRM applications, but why pay for something that's not going to give you exactly what you need? OS offers several CRM applications of its own namely Pennington Firms ATCRM and SugarCRM's Sugar Suite. Both companies offer fully functional, free (as in beer) download versions of their applications or will work with you to customize something to your exacting specifications. While not designed specifically for the medical practice, there can be no denying that relationship management in any industry is of critical importance.
Walt's discussion continued on as the topic turned from types of applications to business opportunities for the eager entrepreneur. One such opportunity arises when you look at the current proprietary offerings. Proprietary applications will never be able to meet 100% of a client's needs. Walt believes OS applications can fill that gap. By having the source available you open up hundreds of possibilities abandoned by the Big Enterprise companies. Another opportunity from OS applications is in the forced migration paths that some proprietary vendors want. The savvy business man can come in and show how, with OS, you are not bound by pricey upgrades requiring brand new hardware every couple years. Walt is not trying to say that all is golden for someone entering the OS application market. There are still plenty of barriers in your way.
There is no denying the success of many of the current proprietary applications. Large companies can spend millions of dollars a year on research and development. It will not be easy for someone to come in and off the street and replace them. According to Walt, one reason being the additional cost associated with retraining staff. Whether they like an application or not, staff will get used to working in a certain way. Add this on to the high costs of data migration and you've got an uphill battle. Minus the cost/change factor there are till barriers to OS applications. As Walt points out the medical billing system in and of itself is a complex beast difficult for anyone to follow.
Walt's talk was very informative and left me with the feeling that open source's place in the health care industry will only continue to grow. This is not to say that OS is the do-all and be-all for every situation, but it shows that there are viable alternatives to the status-quo.
UPDATE:
Walt was kind enough to provide me with a copy of his presentation.
---
About the Author:
Jason Riker has been worked in the Information Systems office at Methodist Hospital of Southern California for the past 10 years.
He's also a student at CSU Pomona completing my Bachelors Degree in Business, with an emphasis in Computer Information Systems.