Configuring Evolution 2.0 with Exchange and GPG Keys Support
by
Alexandre de Abreu
Updated on Monday, 25-Oct-2004 11:18:53 PDT
Exchange Connectivity Setup
The following setup must work with Exchange Server 2000/2003 and will provides mail functionality for Linux clients the same way as Windows clients do when using MS-Outlook. Calendar, Meetings, Global Catalog and all these groupware stuff will be enable to run on Linux.
To configure a new account open menu "Tools -> Settings" and then click on "Add" button, you will see the screen below: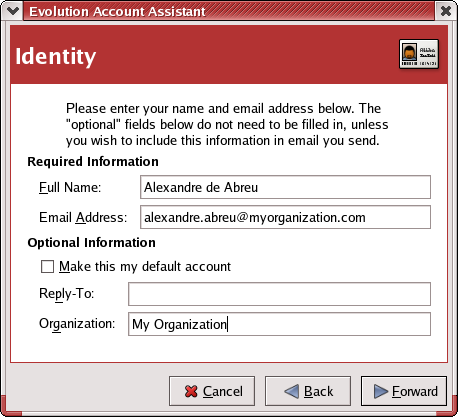 After filling the previous form with your information, you will have to configure the settings about the Incoming Mail Server. Select "Microsoft Exchange" as server type and then fill the field exchange server with the hostname or IP address of your organization's exchange server: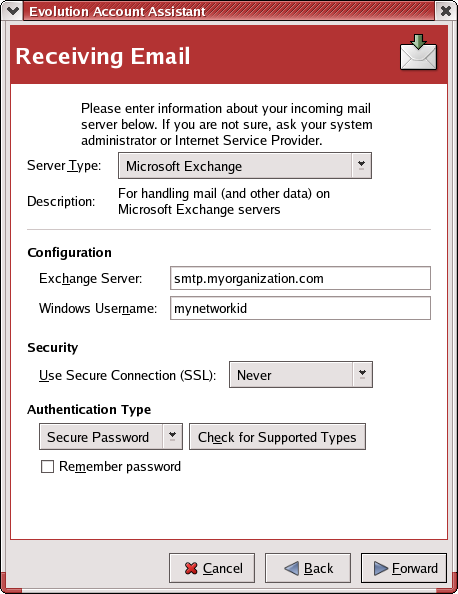 Some notes here:
- The package named "evolution-exchange" provides the MS-Exchange Connector, it has to be installled so that you can choose that type of connection
- The field "Windows Username" has to be filled with your Network ID, not the Mailbox Name
On next form you will have to provide information about the Global Catalog Server, usually your Active Directory Server. This will help you with Contact's List and Auto-Completion functions. The field "Mailbox Name" has to be filled with the mailbox information relative to the previous already informed Windows Account.
If you have OWA(Outlook Web Access) installed, configure these settings too: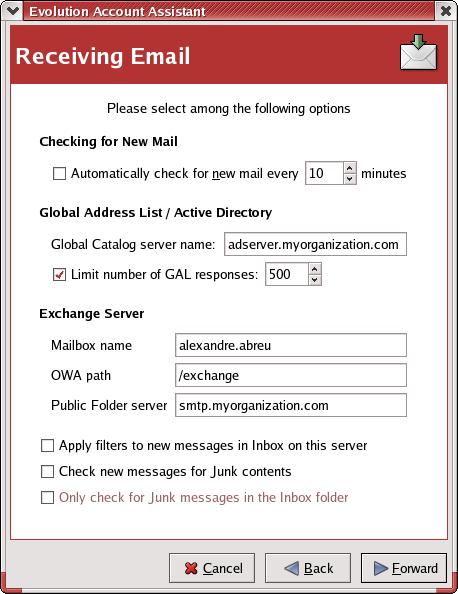 The last form will ask infomation about your Outgoing Mail Server, so if you will use Exchange just go forward and test the Mail connectivity.
Next page will be "Generating and Configuring a GPG Key", click on the blue arrow to continue.