Configuring Evolution 2.0 with Exchange and GPG Keys Support
by
Alexandre de Abreu
Updated on Tuesday, 19-Oct-2004 11:44:37 PDT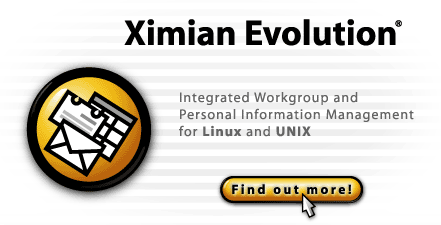 Evolution is the integrated mail, calendar and address book solution for Linux and Unix systems. The suite is developed by the Ximian group, now part of Novell.
One of its great features is Microsoft's MTA/Groupware Exchange Server(2000/2003) connectivity, which provides mail access using MAPI protocol. The second version of Evolution has increadible performance for reading messages and now come with many other interesting features:

    * Integrated connectivity to Novell GroupWise
    * Improved offline support for IMAP accounts
    * Numerous calendar improvements
    * Support for S/MIME, enhanced contact management
    * Gaim instant messaging integration
    * Improved desktop integration

On next pages you will learn how to setup an Evolution mail account in order to access Exchange Server and how to configure GPG keys support allowing you to sign, decrypt and encrypt incoming and outgoing messages.
To continue, go to next page by clicking on the blue arrow below.