Gavin Henry's Column
Gavin Henry has been using Linux since 2001, using Redhat 6.0, 7.0, 7.2 and up. He has also used other distros including; Debian, Gentoo, Slackware, Knoppix, Yoper and others, but settled on Fedora Linux at work and at home. He is a core member of the Aberdeen Linux Users Group organising Aberdeen's first two Linux Open Days, and promotes Linux whenever he can.
He has his own Linux company called Suretec Systems Ltd. Please visit his Services and News pages for more information. He has been also helping with the Fedora Documentation Project. He has just finished an update for it with regards to nXML mode with emacs to show that it is easier to use and learn than pSGML mode.
---
Updated — 5th April 2005
---
He is now a member of the Fedora Documentation Project Steering Committee
---
Updated — 28th Feb 2005
---
He is the author of "Setting up a Secure Proxy Server using Various Technologies", which is now in the Fedora-docs CVS tree and a has CVS access to Fedora Core Extras for the RPMs he looks after:
gnome-applet-netmon
swatch
rdiff-backup
librsync
john
cpan2rpm
You can find him on quite a few IRC channels at Freenode, especially the #fedora ones and #fedoranews.org as G2 and on the moderating team at http://www.fedoraforum.org/ as ghenry.
GnuPG KeyID: 0xDB73BEA8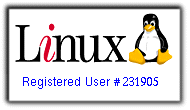 Geographical Location: Aberdeen, Scotland, United Kingdom.
2005-05-12 HOWTO: Set up a Gateway for Internet Connection Sharing using a Broadband Modem.
2004-12-13 REVIEW: Fedora Core 3 Interview on LugRadio.org — Session 2 Episode 5
2004-10-29 SERIES: Open Source/Free software: Philosophy & theory course at Göteborg University UPDATED 2004-11-08
2004-09-03 HOWTO: Automate remote backups using rdiff-backup and perl
2004-08-30 HOWTO: Moving a partition
2004-08-27 NEWS: My websites:
www.benhenry.co.uk
www.thehenrys.co.uk
www.perl.me.uk
www.python.me.uk
www.suretecsystems.com
www.ghenry.co.uk

2004-06-23 NEWS: There has been a lot going on for me these past few weeks, so obviously my content has somewhat slowed down. Don't worry, I have a big list of things I want to write, so please bear with me

2004-05-24 NEWS: I am now the proud father of Benjamin George Henry!!! Visit My/Ben's new blog site.
2004-04-25 NEWS: Too much to do!!! I will be back....
2004-03-28 REVIEW: Fedora Tracker. UPDATED 2004-04-16
2004-03-22 OPINION: Why I love Linux.
2004-03-08 HOWTO: Upgrade to Fedora Core 2 - Test1, with apt.
2004-02-29 HOWTO: Actively monitor log files. UPDATED 2004-05-07
2004-02-11 HOWTO: Resetting the root password with grub UPDATED 2004-02-21
2004-02-10 TUTORIAL: Amanda - Creating Successful Backups
2004-02-01 HOWTO: Set up a Gateway for Internet Connection Sharing
2004-02-01 REVIEW: Webmin UPDATED 2004-02-12
2004-01-30 HOWTO: Mozilla Firebird Plugins UPDATED 2004-02-04
2004-01-24 REVIEW: Mozilla Firebird
2004-01-17 REVIEW: HTML Tidy
2004-01-17 HOWTO: How to add extra repository sources to apt UPDATED 2004-03-16